"Tonight Minnesota, after 54 hard-fought contests, our primary season has finally come to an end.
Sixteen months have passed since we first stood together on the steps of the Old State Capitol in Springfield, Illinois. Thousands of miles have been traveled. Millions of voices have been heard. And because of what you said—because you decided that change must come to Washington; because you believed that this year must be different than all the rest; because you chose to listen not to your doubts or your fears but to your greatest hopes and highest aspirations, tonight we mark the end of one historic journey with the beginning of another—a journey that will bring a new and better day to America. Tonight, I can stand before you and say that I will be the Democratic nominee for president of the United States."
Those words were heard by a whole lot of people across the country and across the world, and my brother Kevin, Brianna and I were lucky enough to be there at the Xcel to hear them live and in person.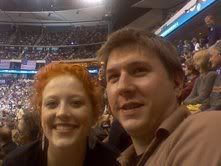 Joined by around 17,000 other Obama supporters (at least 15,000 more didn't make it in) we were thrilled to be a part of this historic moment. After waiting for hours in a line that stretched through a dozen or so city blocks of St. Paul, the crowd was ready for what was an inspiring night of looking ahead and some good old hope mongering.
All these good folks in the media made sure everyone else could see the excitement from home.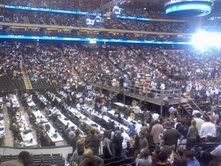 In his speech, Mr. Obama was very gracious towards Senator Hilary Clinton, who he recognized as a tough competitor, a determined patriot, and a leader in the Democratic Party. He also looked ahead to the General Election in November, noting the obvious differences in his and Senator McCain's positions.
Obama set himself apart, as he has done for the last 16 months, with this powerful and transcendent patriotic sentiment:
"What you won't hear from this campaign or this party is the kind of politics that uses religion as a wedge, and patriotism as a bludgeon—that sees our opponents not as competitors to challenge, but enemies to demonize. Because we may call ourselves Democrats and Republicans, but we are Americans first. We are always Americans first."
This guy had a pretty awesome button: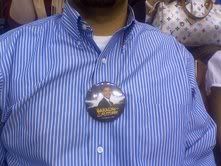 And while I doubt any of the money made by the dozens of people selling knockoff Obama wear outside the Xcel will actually go to the campaign, I simply could not resist this button: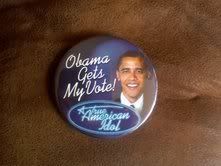 My donations to the campaign netted me these real Obama shirts.